She is the warrior of the soul with both light and dark inside. A Eurovision-Queen and fashion diva with a passion to improve the world and refuses to accept society's framework. Now she starts with new album, new hairstyle and total control. Come a little closer to Loreen Talhaoui.
One idea has been around for Loreen's head as long as she can remember. She was a child the first time she was thinking about it. But the thought got stuck. And then grew like a seed. Through endless childhood days. School benchstroke and daydreaming. Sometimes it became stronger, as when she was beaten in the schoolyard and fought back. Sometimes it faded away from more life-critical moments. She had five siblings. The parents divorced. The family moved. She turned 13. Dad died.
Loreen was in Idol. Competed in the Melodifestivalen. Won Eurovision. Released a celebrated debut album.
Now it has been six years since then and Loreen has finished thinking. She has decided. In a while she will shave all her hair. The mid-length, carbon black hair that is her signature. It's early morning. November. And the hair falls.
– It felt powerful. Liberating. The hair fell in great shock. It was like a ceremony. I saved it in a cloth bag.
Loreen pulls her hands over her shaved head. We meet a few weeks later, she loves her new look.
– The idea to shave the hair has been around since I was little. I was incredibly inspired by women who had done that. I thought it was so cool. And I have no intermediate positions. It's either really long or no hair at all. My old hair was a protection against my vulnerability. Now I want to convey my inner power! My strong energy is found in all women. But you have to dare to be brutally honest with yourself. Look at where the world is heading today. And dare to change. The system will not change by itself. We women must take command of our lives.
At home she is empty and clean. Nothing in the cupboard, not even the fridge. She does not want to be addicted to things.
– I get claustrophobic if I have too much. As the hair fell. But I ask myself why it's brave. Because I am a woman! There are frames for what we can do. What is approved as female. How much of our own power can we get? And when we get it, it must be a certain way, otherwise we will be awkward. I do not accept that.
You're creating a total new start with the new album Ride. What do you start from?
– I want total control over my creativity. I have a new record company, my own producer, the new band. Something happens to the sound of real musicians in the studio. I love the human element of music. I want a real drummer, not a programmed drum sounds. In the past I used to live live and another on album. I was processed, tweaked, tightly packaged. I was choking. I need to flourish. I want to give something to myself and others with my music. Something bigger and more important than the superficial. What else is the meaning of all this? I have shaved my hair, I'm uncompromising at all levels. Now, my music sounds exactly as I want.
Are you a loner?
– I have no need to go with the flow. I fight in my job, fighting for what I believe in. Charity and personal development. Even though I get crazy for it. I have been told: "You are so beautiful, why can not you just sing and look happy?" Then I burn inside. It will never happen. If I'm in Eurovision, the world's most popular commercial platform. Families banged on the sofa. Then I have to shout from the rooftops my message. It is sacred to me.
Loreen is sitting opposite me, wrapped up in a giant leather sofa in a photo studio on Söder in Stockholm. She has black, oversized hooded sweater and black-out pants from Fine edge, shiny flat shoes and gold earrings from All Blues.
– I have had these pants for seven days in a row, it's almost disgusting but it's true. I was saved by kashmir, haha. The shoes are Vetements. I love that brand. So punk and political, they make fun of the fashion industry and breaking all the rules. Their collections are exciting, they bounce out in total but it's still neat.
How is your style now?
– My wardrobe is mostly black. I have some white garments, some military green, two red. But I'm a diva from hell when it comes to brands. Commes des Garçons, Helmut Lang, Margiela, Haider Ackermann, Dries Van Nuts, Vetements, Yamamoto. Shoes from Miu Miu and YSL. I like clothes with intelligence. But I do not like shopping. I call Ulrika at the Jus store in Stockholm and then I can come when they are closed. I choose everything I should have, three, four times a year. It is expensive but I use my clothes all the time. I'm never jumping. I serve on this set-up, I figured it out, haha.
Swedish favourite designer?
– All Blues earrings. Diana Orvings dresses. Carin Rodebjer costumes are very good. Her design shouts power. It is important. I like Johan Lindeberg's stuff like he's doing now, they are inspired by me, haha.
A fun fashion memory?
– I worked with Gaultier for a charity concert and got to choose what I wanted from his showroom. He showed one spectacular creation after another and I wondered if he did not have anything that was a bit more discreet, haha. It ended with a suit with black Swarovski crystals – the least "Gaultier-like" Gaultier had.
What do you want to convey with your style?
– Self-respect and inner strength, although I have been scientifically established. Right now I am reading Sapiens: a brief history of humanity by Yuval Noah Harari. Very interesting from a psychological perspective.
Loreen's mother was 16 years old when Loreen was born. The daughter had to grow up fast, to help most of the time.
– To me it was never strange, that was the only way to get around. Children adapt. As an adult, I realize that we were accomplices. We learned from each other. My words mattered though I was little. I left siblings in kindergarten, sometimes. I got my sense of responsibility then.
Loreen had five siblings in five years.
– One would think that it was chaos, but we took the kids. We did not bus. We saw mom who plucked and worked, struggled. Alone. Mom is a super woman! With super kids. We became merged.
Your parents divorced when you were six years old. How was it?
– I was so small, liked the situation. My father traveled a lot already, he was rarely at home.
All the children moved with their mother to an apartment surrounded by forest on the outskirts of Västerås. Loreen loved the new life.
– I clearly remember the journey there. I was so psyched in the car and sat looking out of the tall trees. Half an hour we just drove through the forest, I still love the woods and nature.
How was the school?
– I had grown up faster than classmates. I was mature. They played kiss-chase, I did not deal with childlike games. I did what I wanted to do. I already had strong intuition. When I wanted to be with my friends, I was there. When I wanted to be myself, I was. I was cool in my solitude. The others thought I was different. But I did not take a shit.
Did you get shit for it?
– Absolutely. Kids love to point out the different. It could provoke me. But you had to provoke me quite a lot for me to get angry. If I got beat up by some guy, I gave it back. I did not understand why I would not do it. I was very sad when someone was mean to me. I started crying and when I realized I was crying, I was angry. I never really searched for trouble.
The singing was Loreen's secret sanctuary. In the same moment as the school bell rang out for the day, she ran home and locked herself in the bathroom. Throughout the day she had longed for the acoustics there.
– I turned off the light, then I sat there in the dark and sang for two hours. Every day. I loved Céline Dion, female artists who took in.
– It was liberating for me to hear. My singing became a controlled primal scream. I got tremendous power. Singing clears the body. The feeling afterwards is amazing.
Have you ever sang at school?
– No. I sat quietly. I had no need to show others, sang for my own sake. The music lessons were uninspiring. I hated sitting in a circle with a maracas and singing Jesus Christ Superstar.
12-year-old Loreen bought herself an old, used and untuned piano. She did not eat candy in half a year and saved every penny to the instrument she braged under the stairs at home.
– There I sat and learned to play by listening to Enya CDs that I had borrowed from the school library.
Do you remember the first time you fell in love?
– I was five years old, and secretly in love with a boy who was my friend, he lived on the farm. But I never said anything. It was the first time I discovered that I could feel those feelings.
Have you experienced the great love?
– I have been so in love that I did not know where to go. All my loves has been my greatest loves. I can cry for joy because I'm so excited by the presence of another person. I would be so happy of it. But it has made unbearable pain when it has run out.
How have you recovered yourself?
– Time. There is no shortcut.
Has it made you hesitate?
– Going halfway is not interesting to me. I love extremely hard. I would die for those I love.
The most important thing in a relationship?
– Love and trust. Respect for each other's personalities and differences. I do not play any games.
How are you living with?
– Intense. All or nothing … haha. At first I seem easy, when I get into life it becomes serious. I have strong opinions, right should be right. It may be demanding for my partner. I do not need to save the world every day, I can break it down a little. But you can not joke out of things with me.
Do you have any love now?
– Yees … I can say so much … yes. I have.
You have said that you are both light and dark inside.
– I have many sketch pages that I work on every day. But one of my best pages is that I never give up. Not even if I say that I give up. I go on my knees. It comes from within, I drive until I die.
Where does the power come from?
Loreen begin a sentence, but interrupts when she hears the song Interstellar being played in the background.
– Oh! This is so beautiful! It's completely sick. I will be completely resigned. How hard the music affects myself. It is so powerful. People who say they don't like music, they haven't devoted themselves. I can guarantee that they haven't had good sex either! Haha.
She is silent for a moment.
– Sex is an extremely great gift for me. No, they cut off the song! Damn, I ended up in such a good mood. Where was I? To me, sex is the strongest when I love the person. Not interesting at all if it happens randomly on a night out. I don't think you should jump around. But if you are in love, go bananas! It's crazy that we have created a taboo energy around sex. That it should be in a certain way. Sure, sometimes you're get tired of it, but hey! Watch out!
She lifts up the phone stubbornly as it beeps three times. Loreen's dog sitter has sent three pictures of her Jack Russell "Lilleman".
– I have given him so much love. He became the world's best dog. He has slept with me since he was a puppy. The other night when I woke up sweaty of a nightmare, he checked if I was okay, lay next to me and hugged me.
The most important value you received from your mother?
– To never ignore my feelings. To trust my intuition. And to drive! Never let anyone else tell me that I can't.
What did you get from your dad?
– I have not lived with him and now he has been dead for a long time. But I think … He was an activist. He was very politically engaged, fought against the repression in Morocco. I remember that he always wore a necklace with signs of all religions. I wondered why. Now I get it. It's the same thing. There is no conflict, the conflict is in you. As I grew older, I realized that I had inherited that from him.
How did you react when he died?
– I was only 13 when my father died. It took several years before I realized he was gone. Death was too overwhelming for me to take in. When we got the news I just said okay, oh well. It took several years before I cried. I have few memories left of my father. It's tough to not have both parents. I have many questions I would have liked to ask.
What do you think your dad would think if he saw you now?
– Nice question! What would dad have thought if he saw me now?
Loreen is completely silent and thinks for a long time.
– With the little I know about his personality, I think he would have cherished my commitment. It was his goal with his life. Justice. He was captured, he was a war prisoner because of what he believed in. He would have probably seen the activist in me and said, "That's what she has got from me!".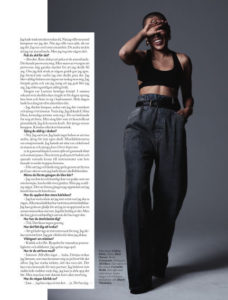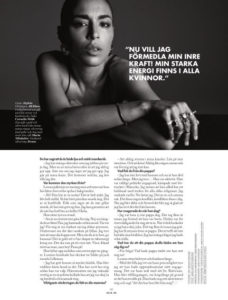 ---
FACTS
Name: Loreen Talhaoui.
Age: 34 years.
Family: Mom, five younger siblings, the dog Lilleman.
Career in brief: Idol (2004), Melodifestivalen (second chance 2011, first place 2012 and second chance 2017), Eurovision Song Contest (first place 2012), debut album Heal (2012).
Currently: With her second album Ride and upcoming tour in United States.
Follow: @loreenofficial
---
Fotograf: Eric Broms/LundLund
Stylist: Maria Montti/LundLund
Hårstylist och makeupartist: Helen Borg/Adamsky
Stylistassistent: Malin Gustafsson
Fotoassistenter: Joakim Rolandsson, Adrian Wallér Zandén
Retouch: Pierre Persson/Mud Studios
---
• Original link: https://www.elle.se/loreen-intervju-elle-kort-har/
• Gallery: http://gallery.lovely-loreen.com/thumbnails.php?album=646
• Translation: via Google Translate